Don't put up with copiers that don't perform, don't have modern features, and require constant maintenance services. Multipurpose copy and printing machines now offer modern functions that have tremendously improved productivity and speed.
With today's hundreds of copy machines in the market, you might ask "how can I find the best one for me?" well here's the answer:
When buying multi-purpose copy and printer machines, make sure to verify important functions like speed, copy speed, cloud integration, paper capacity, and price.
When talking about speed, there is nothing more frustrating than a sluggish model. With this in mind, buy a copy or print machine that can boot in less than a minute, copy in 10 seconds, and print at least 20 pages in a minute. There are machines that can print 50 pages in a minute And these machines should be your choice if you are looking to speed up work.
If you go with models that have cloud integrations your life will be easier because the machine can be connected to third-party applications. with a feature like this, you can easily print from a mobile or desktop device. So remember to go with a machine that has cloud solution integration like OneDrive Google Drive and drop box.
In terms of paper capacity, go for a machine that can accommodate large paper stacks at a time machines with huge paper storage can for sure save you time from refilling paper all the time. also, machines that scan automatically are great ones to have.
With regards to price, multifunction copiers and printers are wide-ranged So it's important to consider this. If you are only starting a business, there are copy and print machines that cost a couple of hundred dollars only. However, if you need more advanced machines you will have the spend a few thousand dollars. When businesses can't afford it, there are lease, rent, or finance options to consider.
To answer the question "which copier model is the best?" Let's stick to these two models: Kyocera TASKalfa 3553ci and Xerox VersaLink C405.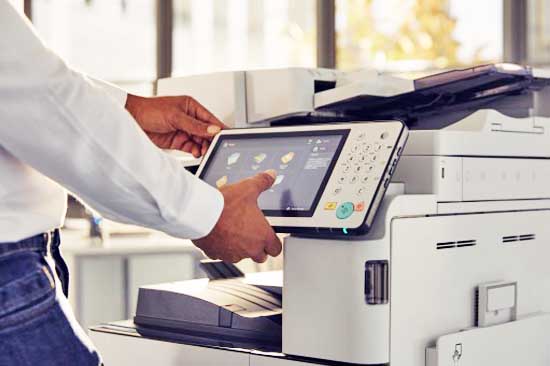 If you are looking for a machine with the best security features, Kyocera TASKalfa 3553ci is your best option. Integrity confidentiality and availability are the three security features that can protect its users from information leaks data alteration and attacks of denial-of-service.
Another great Kyocera feature is its eco-friendly features that can save you on costs through a reduced energy usage system. This multipurpose machine prides itself on its easy navigation touch panel That houses its send copy print Internet browser fax and USB drive functions.
The Kyocera TASKalfa 3553ci Can boot up in 17 seconds and carries an input capacity of 7000 sheets. This model comes with copy features like a border erase, rotate copy, color removal, preview, form overlay, page number, and auto magnification.
An all-in-one machine, Xerox VersaLink C405 is reasonably fast and prints very well. It is a feature abundant with two-sided scanning single pass automatic feeder auto duplexing paper storage expandability toner with high yield cartridges and NFC (near field communication) for remote printing from tablets and smartphones.
With fax, copy, scan print functionalities, the Xerox VersaLink C405 Are perfect for low to medium copying and printing volume needs. However, this runs at a higher cost and slower performance than its counterpart Dell S3845cdn.
The Xerox VersaLink C405 has a tablet-like 5-inch touch display for its control panel. This display allows its users to perform tasks like printing or copying from USB drives or cloud storage. It can also house downloadable applications like Google Drive, Onedrive, and Office 365. For printing convenience, it has features and apps like Mopria, Apple AirPrint, Google Cloud Print, Xerox Android print plugin, NFC tap to pair, as well as wireless and wired support through Wi-Fi Direct and Wi-Fi.
For its security features, this has the capacity to look for that data transmission and authorized access and network intrusion. also it comes with stringent data encryption with extra secure overwrite that can be added to each of its documents.
Conclusion
The best multipurpose printer and copy machines come with features such as security enhancements touch screen panels and cloud integration. They are significantly more powerful, faster, and better in performance than many other outdated copiers.
If you plan to get copiers for your office in Jacksonville, you can opt to buy copiers or lease copiers in Jacksonville. We can give you the option to get the copier that you want. You can contact our local copier leasing services department in your location.
If your Location is around Jacksonville, you may call us at (904) 257-8866, our personnel for copier leasing in Jacksonville will assist you. If you are also looking for copier repair services in Jacksonville, you may contact our copier repair personnel at the same number.
If you are looking for the best copy machine model for your business, check out our list of recommendations in this guide or call us today for a free consultation.